"Yuzen" is one of the most famous kind of dyeing techniques of Kimono. It was established about 400 years ago (in Edo era).
Together with "Kyo Yuzen" and "Kaga Yuzen," Tokyo Yuzen is known as a representative of Yuzen dyeing. It is also called "Tokyo Tegaki Yuzen" or "Edo Yuzen," communicating the elegant dye culture enjoyed by the upper class in the Edo era to the present age.
The characteristics of "Tegaki Yuzen" are its hand paintings and picturesque patterns. They require the work of highly skilled craftsmen with both a good technical training and a refined artistic sense.
This time We will offer products which are based on those skill at affordable prices.
Born in 1953 in Yamaguchi Prefecture .
In 1976 after graduating from Tokyo KIMONO Dyeing Art Collage, he went on to begin intensive dyeing studies with Tadashi Ishizaki(leading Japanese ).
In 1976 Won the Prize from The 13th Japan Dyeing Arts Exhibition.
In 1986 Won the Prize from The 11yh Japan New Artist Exhibition.
and started his own factory in Katsushika.
In 1990 Invited to the Japan Kimono festival at Denver, Colorado.
In 1991 Won the Prize from The 31Th Japan Art Crafts Association Exhibition.
In 1993 Won the Grand Prize from The 18th Japan Kimono Dyeing Exhibition.
In 1993 Held the exhibition of his work at Azuchi Art Gallery.
In 2001 Certified as ab Tokyo Traditional Craftsman by Tokyo metropolitan government.
<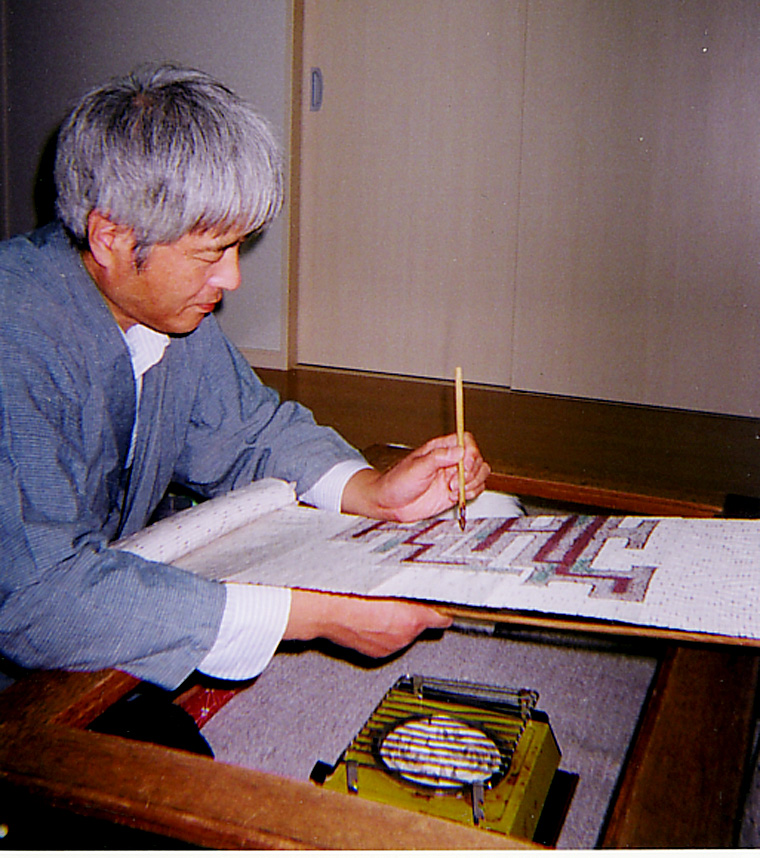 <